Give a Gift of Hope and Healing!
You can help us with your donation today to provide comfort, support & aid to Persecuted Christians in the Middle East & Worldwide.
These donated funds will help us fund the facilities & treatments that will give great relief, help and healing for persecuted Christians, especially the orphans.
Your donations are tax deductible as Dova International Charities, Ltd, is a Section 501(c)(3) public charity in the U.S.A to the extent permitted by law. Dova International Charities, Ltd will appear on credit card statements.
Donor information remains private and confidential.
Other Options to Donate:
Text2Give:
Donate using your mobile phone.  Text DOVA to 302 300 4483
PayPal Giving Funds: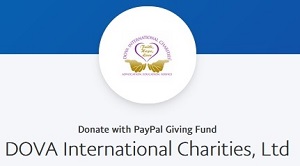 eBay for Charity:

Amazon Smile:
Project World Impact Swipe: